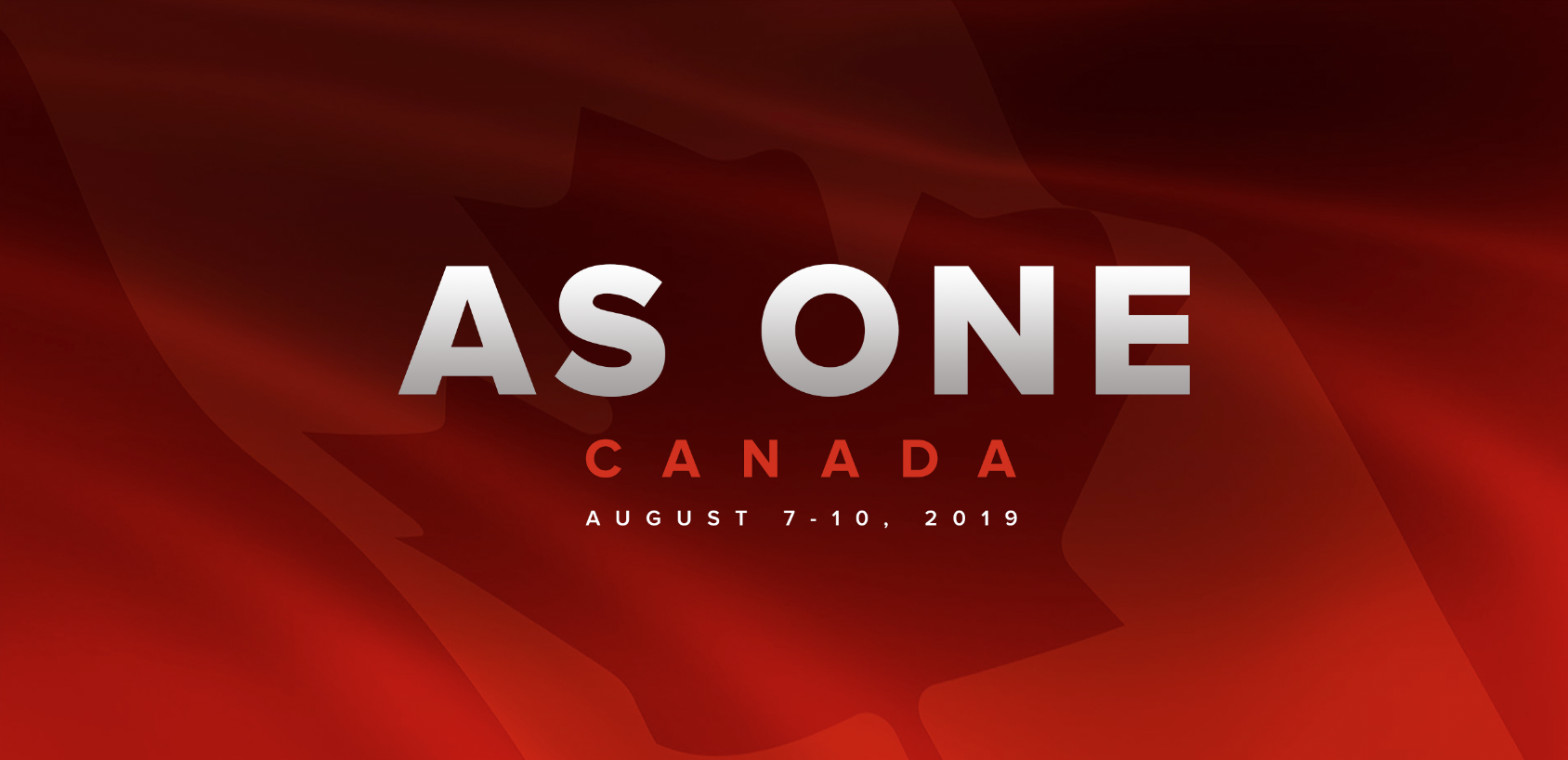 "I pray for them all to be joined together as one
even as you and I, Father, are joined together as one."
JOHN 17:21 (TPT)
Our eyes are seeing and our hearts are in awe of how the Father is gathering His children As One from every nation, tribe and tongue, to be unified to His Son and to be a manifestation of His love and glory in all the earth. Here, in Canada, from many streams, ministries and movements, we have heard the voice of our King calling us to gather at the table He has prepared for us - the table of communion. With His eyes blazing with fire and His heart beating with the rhythm of love, He is calling. He is waiting for us at the table. He has a glorious plan for Canada.

From its foundation, He is standing by His word to make Canada a healing to the nations. We believe He will raise a standard from the heart of this land that will bring Him pleasure and glory throughout the earth.

He will baptize Canada into a new love - the love we were created for. And on this day, the day of the Lord's great power, we will witness His Family, united as One, carrying His presence and His love.

It is time again to come together with one heart and one mind as one family, joined with Jesus, our King, for His purposes at this critical time in the history of our nation.
Come gather with us, As One.
REGISTRATION
** Early-Bird Registration Extended to June 30, 2019 **
Please Note: The primary registrant will be required to pickup wristbands for their entire party. If you are unable (or unlikely) to check-in together, we strongly recommend completing separate registrations. This form is strictly for registration - not accommodations, transportation, nor food.
THURSDAY
AUG 8TH
9:00AM
2:00PM
7:00PM
FRIDAY
AUG 9TH
9:00AM
2:00PM
7:00PM
Times subject to change based on the leading of the Holy Spirit.

Shaw Centre
55 Colonel By Drive, Ottawa
Ottawa Marriott Hotel
100 Kent Street, Ottawa
Conference pricing available from August 6-10th
** Hotel room rates are subject to applicable federal, provincial and municipal taxes (currently 13% HST & 4% MAT) in effect at time of check-out
** Single to quad occupancy for traditional rooms at the same price
** Rooms with 2 queen beds are subject to availability
ROOM TYPES
Traditional Room: $169
Deluxe Room: $204
Executive Room: $214
Concierge Room: $229
All reservations must be accompanied by a first night room deposit via credit card. Deadline for conference room rates is July 5th, 2019, after which market rate prevails.